Where to stay in Ghent • Cool 2022 Hotels in Ghent
Ghent is the third largest city in Belgium and one of the most popular towns for tourists. Although the city is relatively small, with just over 200,000 residents, there are lots of things to do in Ghent. The Christmas market in Ghent is a particularly popular attraction during the winter months. 
The city can offer something for all budgets, and it has areas that provide some of the grandest luxuries in Europe but also some of the most fashionable and trendy. 
Many travelers also opt for a Bruges and Ghent pairing for their trip, to see the historical best of Belgium.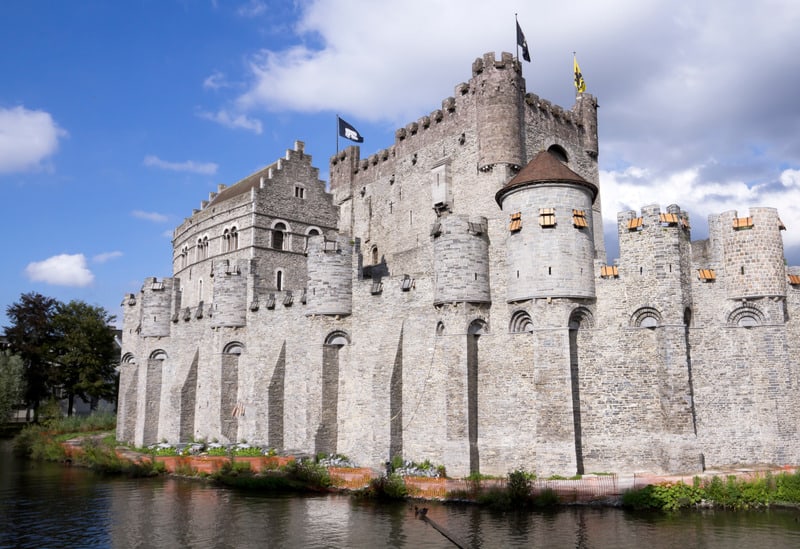 In this blog post, we will show you where to stay in Ghent, identify the best areas for different types of visitors, and give tips on some of the best hotels in Ghent.
Thanks to affiliate links, I pay my bills. If you make a purchase through them, I may receive a small commission at no cost to you. As an Amazon Associate I earn from qualifying purchases. All opinions are always mine. Merci!
OVERVIEW: Best Hotels in Ghent, Belgium
1. City Center – Where to Stay in Ghent for First Timers
There are lots of things to do in Ghent city center for first-time travelers to this historic hub. It offers scores of attractions, including the Saint Bavo Cathedral, which is known worldwide for the Ghent Altarpiece. 
This piece is considered the first major oil painting in the world and one of the first pieces of Renaissance art created during the transition out of the middle ages. 
There are many great churches in Ghent with art of this caliber throughout the city center, but it is important to note that Ghent is not a "city museum." Instead, it feels lived-in and welcoming. 
The other important aspect of Ghent is that it is a car-free area. This makes the city center a far more relaxing place to spend time than many other European city centers.
As the primary area in the city, there are plenty of hotels in Ghent and hostels in Ghent to choose from. 
For travelers wanting something familiar, Novotel has a hotel located in the heart of the city center: the Novotel Gent Centrum. This hotel is located close to attractions such as the House of Alijn, but with a charming garden, it is a great place to relax. – Check rates here
Another trusted hotel chain that has a branch located in Ghent city center is NH Hotels. The NH Ghent Belfort sits right next to the historic town hall. This hotel's primary attraction is its on-site gym and sauna. Access to these facilities is included for all guests. – Check rates here
I also recommend staying in Ghent city center in case you're wondering where to stay in Ghent to visit the holiday market, one of the best Christmas Markets in Belgium.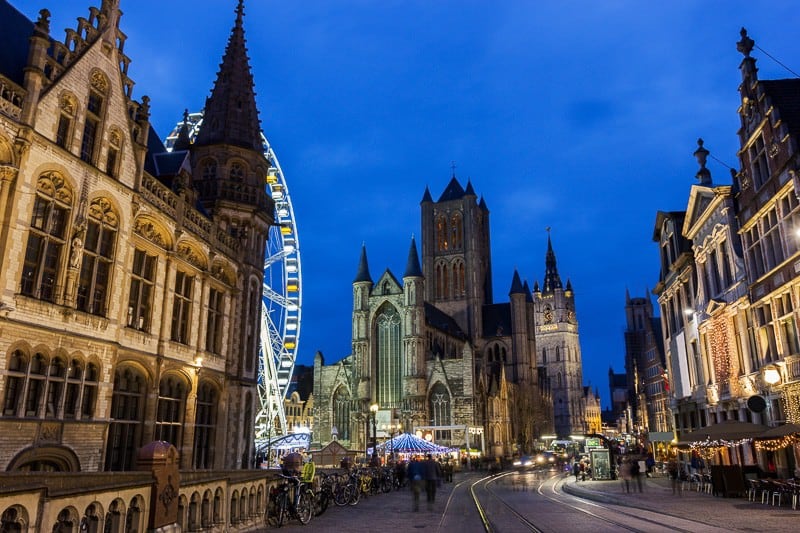 Best Hotels in Ghent City Center
Budget
Mid-range
Yalo Urban Boutique Hotel Gent
Pillows Grand Boutique Hotel Reylof Ghent
Luxury
Pillows Grand Boutique Hotel Reylof Ghent
2. Sint Michielsbrug Area- Where to Stay in Ghent for Luxury
Ghent has plenty to offer for premium travelers, and the height of its luxury can be found on the canal near the Sint-Michielsbrug bridge and Saint Michael's church. These are two iconic landmarks in the area that all luxury travelers will want to visit. 
The stone bridge, built at the start of the 20th century, is the perfect Instagramable location where you can take pictures with some of the most jaw-dropping architecture in Europe. 
The late Gothic Saint Michael's Church is also brilliant. Although the outside is fairly typical of the Gothic churches that can be found all over Europe, it is unique for its stunning interior decoration and history. 
This location is also a great spot for shopping, especially during the festive period when visitors can enjoy holiday shopping in the city center of Ghent.
This area is great for luxury travelers because the two most luxurious hotels in Ghent can be found there. The most famous of these is 1898 The Post, which is located in Ghent's old post office. – Check rates here
The other luxury hotel located near Sint-Michaelsbrug is the Ghent Marriot Hotel, where guests enjoy fantastic views of the Lys River. The hotel is well-equipped with a fitness center, shared seating areas, and excellent room service. – Check rates here
This hotel also provides some excellent food and drink. The Poppi Coffee and Wine Bar is known for its cocktails, and the Midtown Grill serves up steaks cooked to perfection.   
Best Luxury Hotels in Ghent, Belgium
3. Elisabethbegijnhof-Papegaai District – Where to Stay in Ghent for Budget 
Many travelers on a budget favor the Elisabethbegijnhof-Papegaai District for their accomodation in Ghent, considering it a more affordable alternative to the city center with almost as good access to attractions such as the Gravensteen castle. 
This is the foremost castle in Ghent and can be found within walking distance of the Elisabethbegijnhof-Papegaai District.
The district is also known for its variety, and there are plenty of restaurant options for travelers trying to save money. And if you find you have a little extra money at the end of the trip, it might be the perfect district to treat yourself to a more upmarket meal. 
Traveling on a budget doesn't mean you cannot stay somewhere charming and historic, as the Erasmus Hotel proves. It is a 16th-century patrician house that is steeped in history. – Check rooms here
Another historical yet budget place to stay for visitors to Ghent is Guesthouse PoortAckere which can be found on Oude Houtlei street in Elisabethbegijnhof-Papegaai. Guests with particularly tight budgets can save money by selecting a room with a shared bathroom. – Check rates here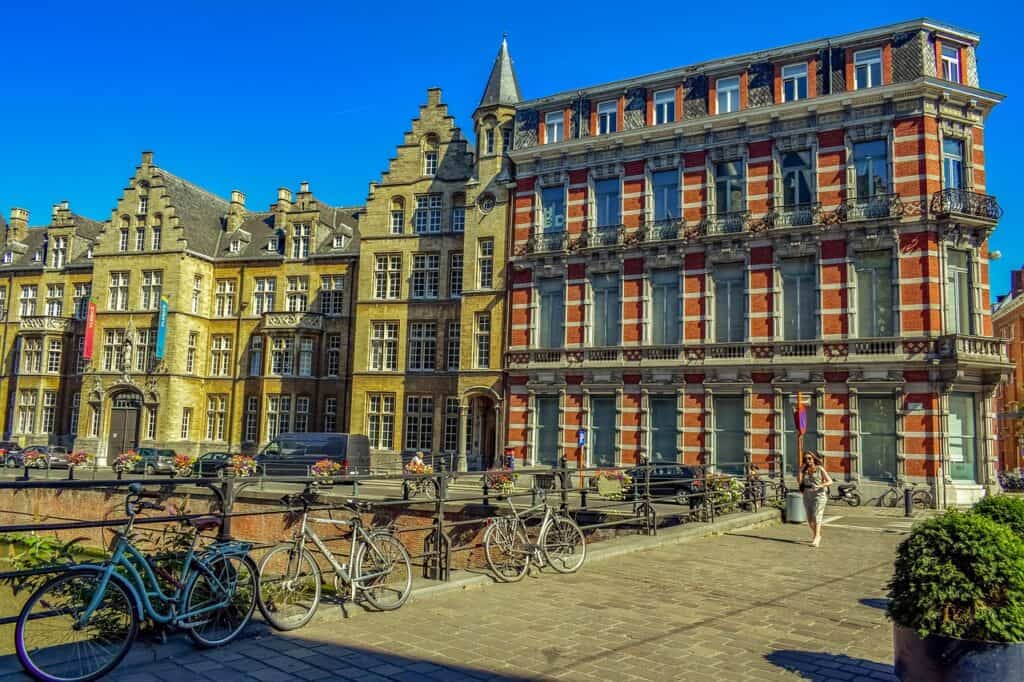 Best Budget Hotels in Ghent
Campanile Hotel & Restaurant Gent
4. Sluizeken-Tolhius-Ham District – Trendiest Place to Stay in Ghent 
Some of the best bars in Ghent are located in the Sluizeken-Tolhius-Ham district, which can be considered the hub of alternative culture in the city. 
For example, it is known for housing Graffiti Street. Along this road, artists have historically had free reign to make the walls as colorful as possible. 
Many travelers aiming for something trendy and authentic in Ghent choose to stay in the guesthouse B&B De Waterzooi. Its home is a traditional house built in 1713 and located at the foot of Gravensteen castles, one of the best castles in Belgium. – Check rates here
Travelers on a higher budget who also want to experience this trendy spot can stay in the Nonam Boutique Hotel. They offer high-quality rooms designed to be allergy-free and have a full range of facilities for you to use. Outside of your room, you can enjoy the terrace, which offers stunning city views. – Check prices here
Best trendy places to stay in Ghent
Budget
Mid-range
Yalo Urban Boutique Hotel Gent
Luxury
5. Sint-Pieters Train Station Area – Where to Stay in Ghent for Families 
There is plenty to do in Ghent, but visitors with young families might struggle to keep the kids entertained for a longer trip. 
This makes the Sint-Pieters Train Station area perfect for families. The station is a terminus for the city's extensive tram network, which will make exploring the city simple, and once you have seen enough, you will have access to the national rail system. 
Visiting cities like Antwerp and Brussels can easily be done on a day trip.  
Sint-Pieters itself is also a pleasant place to spend time. It has plenty of comfortable cafes and shops to visit, and choosing this location for your accommodation in Ghent is a great choice.
The area has plenty of family-orientated hotels that offer pleasant stays for good value. One primary option for families is Hotel Orion which is just 0.6 miles from the station and 100 yards from a tram stop. If you are hiking in Belgium, this distance will be no trouble. 
Another family hotel option is Hotel Adoma, a spacious three-star hotel that is just 550 yards from the station. Alongside its excellent access to travel, this hotel also includes a breakfast each morning so your children will always start the day well-fed. 
Best holiday apartments in Ghent
Budget apartment
Apartment in the historic center
Beautiful city center apartments
Mid-range apartment in Ghent
Wooden house with terrace and parking
Luxury apartments in Ghent
6. Hoogstraat – Best Boutique Hotels in Ghent 
The place to be for the primary boutique hotel in Ghent is on the Hoogstraat, not far to the West of the historic city center. 
Everything is within walking distance when you are staying on Hoogstraat, but you will avoid the hustle and bustle and get to stay in a much quieter area. 
The top hotel to mention that is on the Hoogstraat is Pillows Grand Boutique Hotel Reylof Ghent. This hotel is just 550 yards from the city center.
The whole hotel was renovated in 2018 to keep up to date with the latest demands of boutique customers. Situated in a former coach house, the hotel has its own wellness center.
Best Boutique Hotels in Ghent
Mid-range
Yalo Urban Boutique Hotel Gent
Luxury
Pillows Grand Boutique Hotel Reylof Ghent
7. Brugse Poort Area – Best Bed and Breakfast in Ghent 
Often found a little beyond the central city area, B&Bs are a great opportunity for visitors to Ghent to experience what life is like for residents. 
Bed and Breakfasts in Ghent, Belgium, are usually hosted by locals. They offer excellent advice and tips to make your stay customized to exactly what you like.
The Brugse Poort area is a fantastic place to find B&Bs, with many locals opening up new ones every year. The port is iconic as it has provided a link between Ghent and the ocean and the world since the 13th century.
There are two excellent B&Bs to choose from in the area. The first is BNB Nest which can be found on Schommelstraat. All rooms are highly liveable, coming with a full kitchen, microwave, and private bathrooms.
The other B&B option is B&B 1 uit de 100. Although out of walking distance of most of the Ghent historic landmarks, this B&B is noteworthy for being just a 10-minute walk from STAM Ghent City Museum.
This B&B offers single, double, and deluxe family rooms making it ideal for any traveler.
Best B&Bs in Ghent
Budget
Mid-range
Luxury
8. Corneel Heymanslaan Area – Where to Stay in Ghent for Business Travel 
Hotels off the Corneel Heymanslaan are the perfect location for those traveling to Ghent for business. Located just off the E17 highway, these hotels are easy to get to, reach the city from, and travel out to other parts of Belgium. 
There are two primary hotels to consider in this area, both of which are very close to each other. Firstly, the Holiday Inn Express Gent is an excellent choice for travelers with electric vehicles, offering a free charging station to all guests.
The other ideal hotel for business travelers is Residence Inn Ghent by Marriott, which offers a more premium experience for business people. You'll be eating well here, with all guests receiving a continental or buffet breakfast and selected rooms featuring a kitchenette.
Best business hotels in Ghent
Mid-range
Holiday Inn Gent Expo, an IHG Hotel
ibis Gent Centrum St. Baafs Kathedraal
Luxury
Residence Inn Ghent by Marriott
Ghent is one of the most beautiful cities in Belgium and is one of the best day trips from Brussels available. For longer trips, choosing a hotel will be necessary, and this guide has provided options for every traveler. Make sure to consult it before booking your stay in Ghent.
---