Descanso Gardens: 10 Energizing and Fun Things to Do
Thinking of visiting the Descanso Gardens in La Cañada Flintridge, California? Here are the most energizing and fun things to do in Descano Gardens.
Descano Gardens is a beautiful, peaceful, and energizing place to visit in Southern California. Spending time at these Botanical Gardens is a local favorite. We visit multiple times of the year. It's another little slice of serenity and beauty inside of Los Angeles.
Why visit the Descanso Gardens?
With its stunning views, blooming flowers, and peaceful surroundings, Descanso Gardens is the perfect place to escape the hustle and bustle of everyday life to re-energize.
There are plenty of things to do for visitors of all ages. Descanso Gardens is a family-friendly destination featuring 9 botanical gardens, a kid-size train ride that adults are welcomed on, trails, a cafe, a gift shop and so much more.
Their yearly holiday special events, Carved and Enchanted, are another reason to keep Descano Gardens at the top of your to-do list.
Descanso Gardens
Where is Descanso Gardens located?
The Descano Gardens gardens are located in the city of La Cañada Flintridge in Los Angeles County. And it's only 10 minutes from the city of Pasadena.
Address: 1418 Descanso Dr., La Cañada Flintridge, CA 91011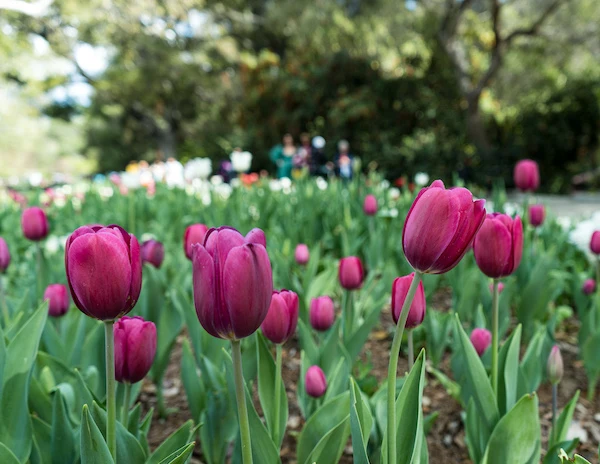 Descanso Gardens Tickets: How much does it cost to go to Descanso Gardens?
General admission is only $15 for adults
$5 for children between the ages of 5-12
You can purchase tickets here on their site
To save time, especially on the weekends, purchase your tickets online and get them emailed to you. This way, you can bypass the line at the ticket counter and go straight to check-in.
Does Descanso Gardens have free days?
Yes. They are released on the first day of every month, or the consecutive Monday if it falls on a weekend.
In this blog post, we'll take a look at the 10 best things to do at Descanso Gardens. So if you're thinking of visiting, be sure to read on!
Things to Do in Descanso Gardens
1. Explore the Gardens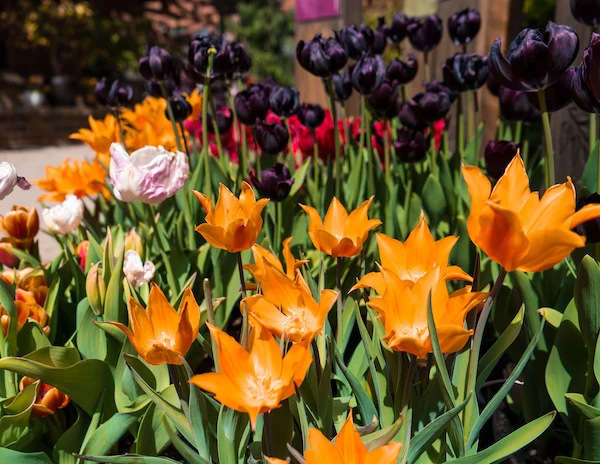 Take time to explore the gardens.
Descanso Gardens is a 150-acre botanical garden, featuring 9 different gardens. There's the Rose Garden, Japanese Garden, Oak Forest, Oak Woodland, Center Circle, Maple Forest, Natures Table, and the California Garden.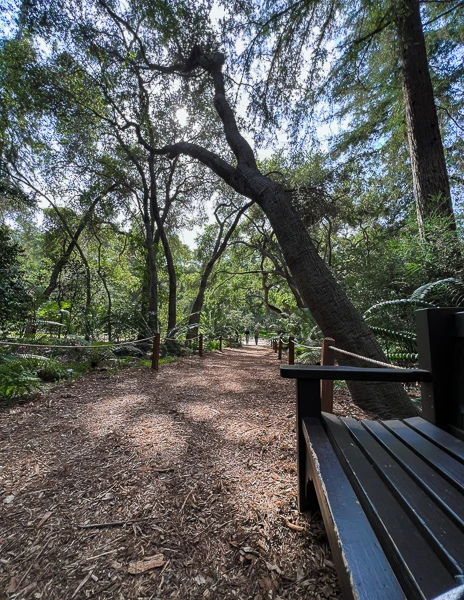 You could easily spend a whole day here exploring all that Descanso Gardens has to offer. But if you're short on time, we recommend checking out the Rose Garden and Japanese Garden.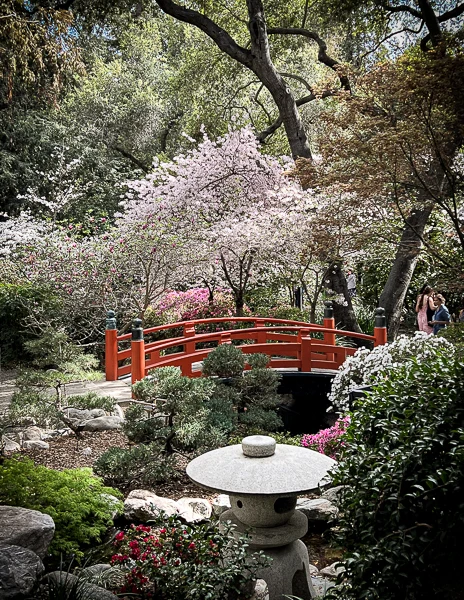 The Japanese Garden with its tranquil koi ponds, serene footbridges, and picturesque views, taking a stroll through the Japanese Garden is a must-do while at Descanso Gardens. In March, the white cherry blossoms are fully bloomed and making it an ideal time to visit if you'd like to experience it.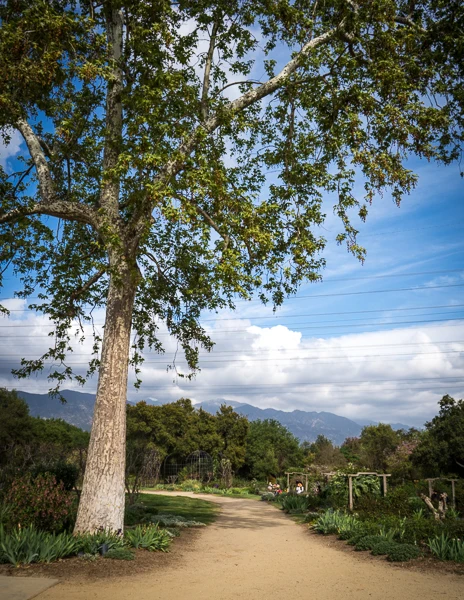 The Rose Garden is also a favorite among visitors. With over 200 varieties of roses, the Descanso Rose Garden is one of the largest and most diverse collections in all of Southern California. Although the roses bloom at different times of the year.
When are certain flowers blooming at Descanso Gardens? Descanso Gardens has a great list with all the months and what's in bloom at the time: click here.
2. Picnic Before or After Your Time in the Gardens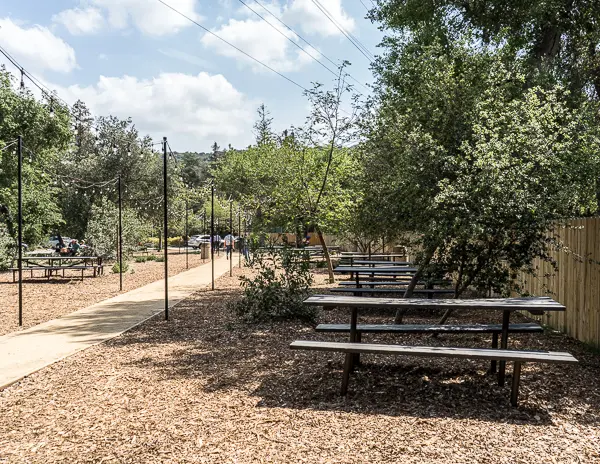 Plan a picnic and make use of the lovely picnic tables right outside the entrance. There is no picnicking inside the gardens themselves. That doesn't mean you can't plan accordingly to have a quick bite to eat before or after.
Especially if you visit Descano Gardens in the early morning, it's nice to have a lunch cooler ready to go in the trunk of your car.
Groups do gather here in the morning and for lunch.
Tip: You can bring a reusable bottle of water and small snacks with you inside the gardens. You just can't throw a blanket down and have a picnic.
3. Bring a Book and Find a Cozy Idyllic Spot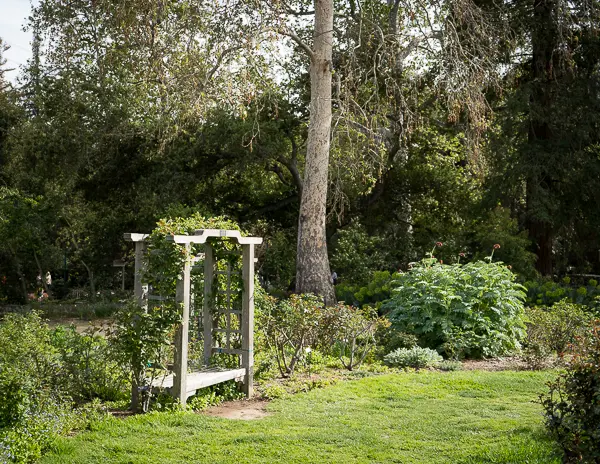 Don't be afraid to bring a book and find a secluded spot to read. As you explore Descano Gardens, you'll find that many visitors do this.
Go further into the park away from the busiest gardens. Find a lonely bench under the shade, whip out your Kindle, hardcover, or paperback, you'll be engrossed in that book in no time. I love the Ancient Forest or the Live Oak Forest areas.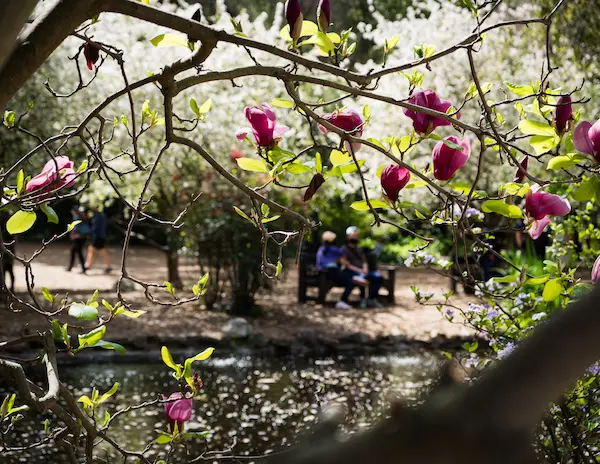 Or simply sit and just be.
Descanso Gardens is the perfect place to practice some self-care and leave with renewed energy.
4. Visit and Keep Active
On the opposite end of the spectrum, you can also visit Descanso Gardens to get in that physical activity in a new environment.
Confession, one of the reasons I love to visit Descanso Gardens is to get my steps in, keep moving and be active all while enjoying what these botanical gardens have to offer. I feel like there is always something new to enjoy and discover here.
We could easily go hiking to Eaton Canyon or one of the many other trails nearby, but it's not the same. Sometimes you just want to be surrounded by beautiful blooms, walk paved paths and just support a local neighborhood attraction.
After the pandemic, it's nice to get out and enjoy these attractions that were once closed for some time.
Best Things to Do in Pasadena, CA
Stop by the neighboring city of Pasadena. See everything there is to do in Pasadena, California, from a local's perspective! Don't forget to include this great city in your Southern California itinerary. Visit Pasadena City Hall, the Rose Bowl Flea Market, The Huntington Library, and many other attractions.
5. Attend the Nightly Holiday Events: Carves and Enchanted
If you're visiting during Halloween or the Christmas holidays, be sure to attend one of Descanso Gardens' nightly events! Of course, during normal business hours, the garden is open and the displays and decorations are up. At night it is a different experience and worth the cost of the event.
Carved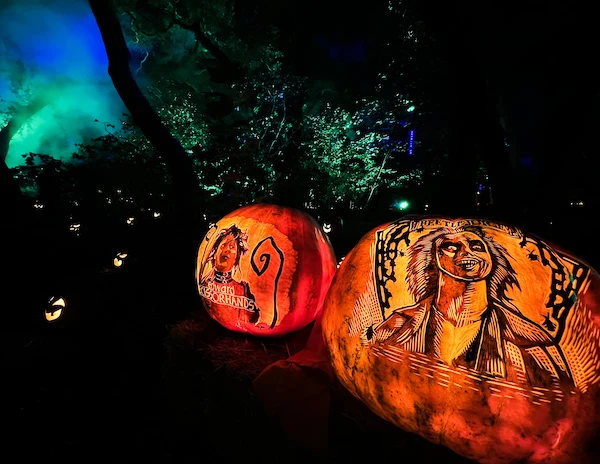 The Carved event takes place during the fall around Halloween. Descanso Gardens features over 100 hand-carved pumpkins with intricate designs and other spooky but fun displays throughout the gardens.
Enchanted Forest of Lights
Enchanted is their holiday light event that happens every year from the day after Thanksgiving to just after New Year's Day. It's an immersive experience with millions of lights, projections, synchronized music, and more. It's one of the most popular things to do at Descanso Gardens during the holidays.
Tickets for both events go on sale around October, so be sure to buy yours early as they will sell out! You can purchase tickets for both events in advance on their website in advance.
6. Ride the Enchanted Railroad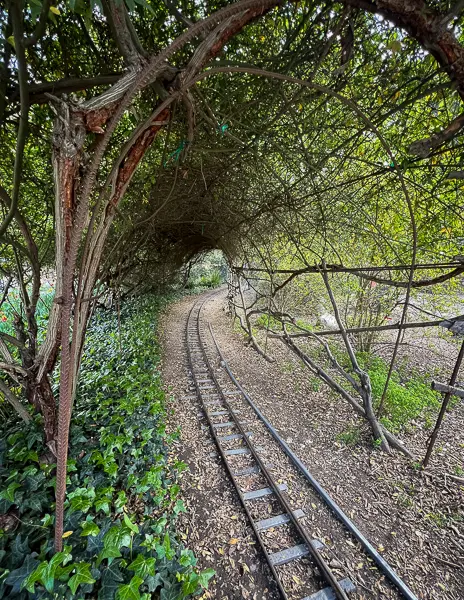 The miniature train at Descano Gardens temporarily closed but it is a fun and popular thing to do in Descano Gardens when it is open.
This miniature train ride is a great addition to your day at Descano Gardens for your little ones and for you… we're all kids at heart, right?
This short train ride around the promenade takes you through the blooms and lush tunnels covered in greenery. Now, you and your child be prepared to hold on tight as you straddle the seats as it's a conventional train ride when you sit and strap in.
Cost: Additional $5 pp | Purchase with your admission tickets
7. Explore the Trails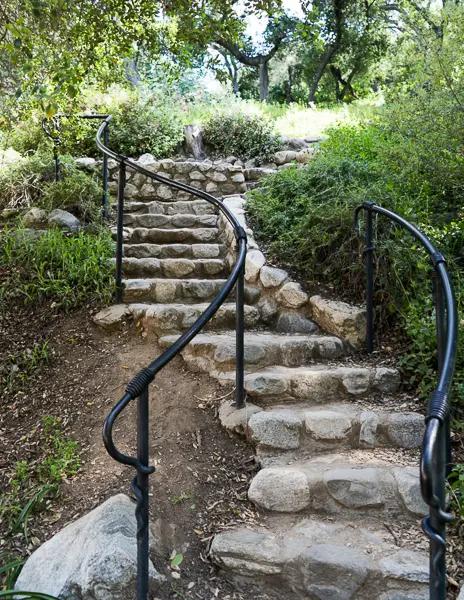 Technically, they are called unpaved paths at Descano Gardens. As you're exploring the gardens, you'll notice trails that go further into the hills and give you amazing views of the San Gabriel Mountains.
You can easily get lost and get away from the crowds while exploring the trails. If you do plan to check out these unpaved paths, make sure to wear the correct footwear.
Things to Do in Monrovia, CA
Just a 20-minute drive from La Cañada is the quaint city of Monrovia, California. See what this charming and underrated Los Angeles destination has to offer. Check out their Friday night family market, great eats, and more. This is Route 66 stop is one you don't want to miss in Southern California.
8. Take a Cocktail Break in the Rose Garden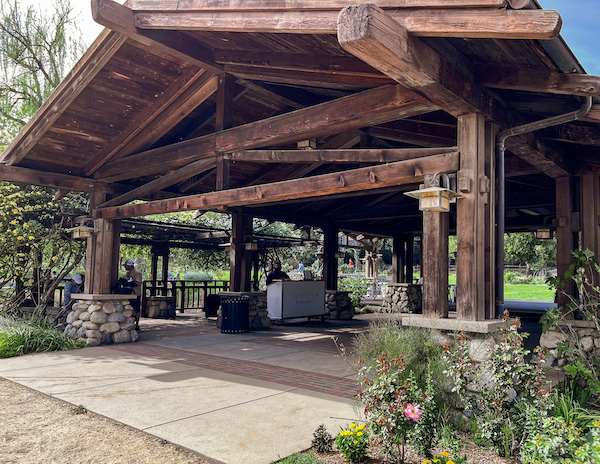 You may be visiting on a lucky day when there is a cocktail, beer, wine, and drinks station set up at the Rose Pavilion in the Rose Garden. It's not always there, but on busy days like on a weekend day, you may have the opportunity to indulge.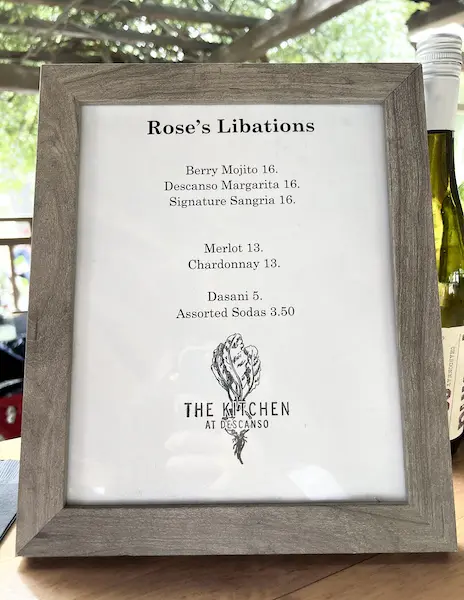 If you walked around Descanso Gardens clockwise and explored already, then the Rose Garden is probably one of your last stops. Perfect time to grab some wine or a cocktail and perhaps a snack. Sit back and enjoy the rest of your lovely time at Descano Gardens.
It's a great time to take it all in and breathe in that fresh air that Mother Nature provides with a few sips of a nice drink. By the time you leave, you're going to feel wonderful.
9. Get Something to Eat at The Kitchen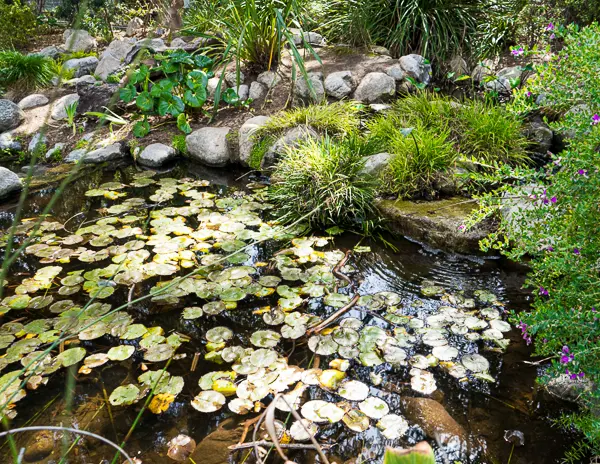 The Kitchen is Descanso Gardens cafe and restaurant. They have a lovely patio area with a small pond. If you're hungry and didn't pack a picnic, you can always grab a bite at the Kitchen.
During the holiday events, they have special treats and drinks. We always stop by to see what they have. The hot chocolate with baileys is always delicious and great to sip on during your nightly walk on a cold night.
10. Visit the Gift Shop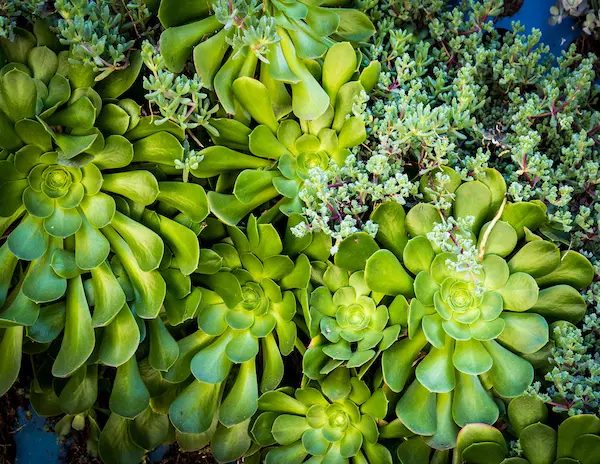 What's cool about the gift shop at Descano Gardens is that you can find local crafts and foods, like local honey to take home. You can also find cool plants and unique outdoor items for your home.
Recently we were there, they were selling tomatoes seedlings so you can start your gardening adventures. Garden is another form of mindful meditation, which increases healing and energy.
Definitely worth stopping by. and seeing what they have in store. You never know what you'll find.
These are the fun and most energizing things to do when you visit Descanso Gardens. We hope this list helps you plan your trip there or look at your visit from a different perspective. Have a wonderful time exploring all that the gardens have to offer.
What is your favorite thing to do in Descanso Gardens?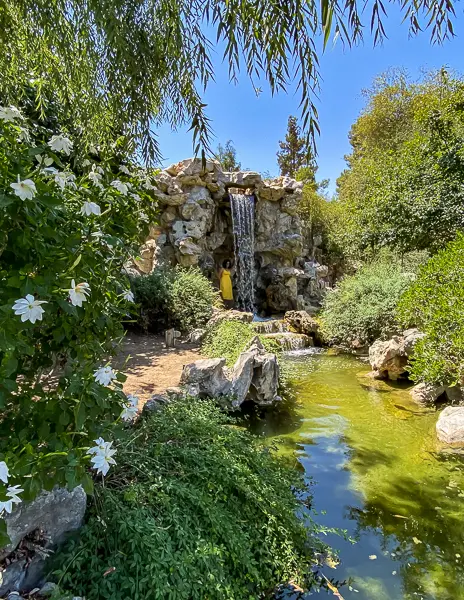 We share 8 botanical gardens to explore in the San Gabriel Valley. From the Huntington Library to the Los Angeles County Arboretum, there are plenty of gardens to explore in the area. If you love Descanso Gardens, then you'll definitely enjoy these other gardens, too.
Do you have a favorite botanical garden in Southern California?
Don't forget to share the love on Pinterest: