Akademik Ioffe Review – The World's Best Polar Cruise Ship
We spent 11 days exploring Antarctica with One Ocean Expeditions onboard one of their amazing research ships. This is our Akademik Ioffe review.
A trip to the polar regions is an adventure like no other. A once-in-a-lifetime opportunity to visit one of the most remote destinations on the planet, destined to form memories that will never fade.
When you've made the decision to take a trip to Antarctica or the Arctic, it's important to choose the right operator to look after you on you journey. But one of the other aspects that you may want to consider is what ship you will be joining.
We visited Antarctica with One Ocean Expeditions and ended up being on the Akademik Ioffe, one of their polar-designed expedition ships, and an active research vessel.
As we were doing our planning we loved the idea of visiting a place as delicate and inspiring as Antarctica onboard a ship that was conducting scientific research. After all, this is meant to be an adventure, not a luxury getaway.
Before we jumped on the Akademik Ioffe we were curious as to what it would be like on the ship. We had been on small cruise ships in the past, but never anything like this.
To say we were pleasantly surprised would be an understatement. While it isn't a luxury cruise ship, it had all the facilities you could ever need for an extended foray into the polar world.
Check out plenty of amazing things to do in Antarctica in our latest article.
Our Akademik Ioffe Review
The typical things were there – it was of course heated throughout, had lots of room to walk around, etc. But it was the other amenities that really made us fall in love with it.
In our minds this really is the world's best polar cruise ship. It's embodies everything you would imagine for a trip to Antarctic or the Arctic, while adding the creature comforts that aren't necessary, but definitely welcomed.
While we don't put too much thought into these things, we realise that many people do. So here is our complete Akademik Ioffe review to give you an idea of what it's really like onboard a trip with One Ocean Expeditions.
Note – The Akademik Ioffe is almost identical to the Akademik Sergey Vavilov, so you can use this review of the Akademik Ioffe as reading material for its sister ship.
The Cabins
We were staying in a twin semi-private cabin, which meant we had the room to ourselves, but shared the bathroom with one other cabin.
The cabin was bright and airy, with a window that opened up to let in fresh air. We had two single beds in the room, which were quite comfortable, with power plugs, curtains for privacy and a reading lamp.
There was work desk with kettle, tea and coffee refreshments, although we mainly used the table to charge all of our camera gear.
For storage we had a wardrobe that we kept our main clothes in. Our large backpacks were collected and stored away to give us more room in the cabin.Our jackets and waterproof pants hung off of the wardrobe. Above the work desk was another shelf.
Check out our ultimate destination guide all about travel to Antarctica!
The bathroom was small, yet functional. Even though we were sharing with our neighbour this never proved to be a problem. The housekeepers came through every single day to clean the bathroom and cabins.
While our cabin was quite basic, we had a chance to look at some of the more luxury ones onboard, and they were in another class altogether! Private bathrooms, queen size beds, lots of storage space, sitting areas, they were like you would expect on a proper cruise ship.
We became friends with the couple that were in Shackleton Suite, and they let us have a look at their room too. All we can say is 'wow'. It was actually two rooms in one, with a private living room adjoined to the bedroom.
If you want to travel to Antarctica in style, the suites onboard the Akademik Ioffe are out of this world.
READ MORE: Check out our latest ship review from onboard one of the newest polar exploration vessels: Quark Ultramarine Review!
Personally we thought the semi-private cabin was more than adequate, and we were hardly in our rooms anyway.
Yes, they are small, but we were always out on excursions, socialising in the lounge area, eating meals, attending presentations or just watching the beautiful scenery from the bridge or bow. We literally just used our cabin for charging camera gear, getting changed and sleeping.
The Food
This is where life on the Akademik Ioffe really excelled. One Ocean Expeditions takes great pride in the quality of food served on their adventure trips, and we're not exaggerating when we say it was amongst the absolute best food we had the entire year.
A number of qualified chefs, sous chefs and even a pastry chef live on the ship, preparing delicious, hearty and healthy meals to keep the passengers satisfied.
For breakfast a huge buffet would be put on, catering for every style. Continental, full-English, fresh fruits, muesli and even Asian noodle and vegetable dishes would be served. Fresh coffee and tea was always available too.
For lunch and dinner you would be given a selection of meat, seafood and vegetarian dishes from the changing, daily menu.
The quality was absolutely superb. One night we would have grilled barramundi, and the next we'd have sirloin steak. The taste of each dish was rich and succulent, and we feared that we'd be leaving the Akademik Ioffe a few kilos heavier. In fact, we did.
Throughout the day there are plenty of snacks, pastries and fruit to enjoy, and coffee and tea is always ready to go in the lounge area.
The real joy of being on any One Ocean Expeditions ship is definitely the food, and we couldn't write this Akademik Ioffe review without highlighting the amazing work the chefs do.
Lounge Area
The lounge is the real life and soul of the ship – It's where all the socialising happens!
When the wake-up call goes off in the morning everyone gathers in the lounge to drink coffee and enjoy fresh fruit smoothies made by the awesome bar staff.
During the day passengers meet to share stories, edit photos, have a laugh or read books. In the evenings the bar is open, and at happy hour you'll find guests and crew having a beer, wine or cocktail, excitedly chatting about the day's adventures.
Even if you have a large cabin you'll probably end up spending most of your free time here, making friends for life.
Special Amenities
Just because the Akademik Ioffe is a scientific research vessel doesn't mean that you have to go without some of the kinds of facilities you'd expect on a proper cruise ship.
You'll find everything you could ever need to make your trip extra comfortable. As you'll be in the polar environments, the sauna and hot tub are much-loved spots, and the gym is ready to be used if you're feeling extra active. (Full, shameful disclaimer – we never went to the gym once…)
If you would rather have somewhere quiet to hang out than in the lounge, make your way to the library, which is filled with dozens of books all related to Antarctica and the Arctic.
A qualified masseuse is also available for sessions if you're body is hurting from all the amazing things you'll be doing in Antarctica.
One of the most impressive setups on the Akademik Ioffe is the computer room, which is equipped with half a dozen brand new iMacs loaded with Adobe Lightroom and Photoshop.
If you don't travel with a laptop you can do all your photo editing and transferring on these computers. It's also where passengers upload images into a shared folder, so if someone took a great photo of you with a penguin sniffing your feet, you'll probably find it on here.
All of those things aside, the ship at the end of the day is a research vessel, and there is active science being conducted at all times.
On our final day we were given a full tour of the ship from one of the engineers, who showed us where a lot of this work was being done. This was a real thrill, and made us feel that travelling on the Akademik Ioffe was not just a positive experience for ourselves, but also for the environment.
Complete Safety
It's no secret that the polar regions can have rough seas, and crossing the Drake Passage in particular can be something that worries a lot of travellers.
Luckily if you're thinking about making the famous ocean voyage on the Akademik Ioffe, you'll be in perfectly safe (and stable) hands.
The first thing you'll do once you get onboard is a mandatory emergency drill, and you'll be briefed on exactly what happens in case of an extremely unlikely situation.
Fully-stocked polar life rafts are found on the upper decks, with enough room to carry almost double the number of people that can be found on the ship at any one time.
The Akademik Ioffe, and its twin the Akademik Sergey Vavilov, have internal water-ballasted stabilisation systems that help minimise the amount of swaying in rough seas.
The hulls are ice-strengthened and designed specifically for polar exploration, so there's no need to worry about charging through sea ice at any time of day or night.
Even if you do feel seasick, every trip with One Ocean Expeditions has a fully-qualified doctor onboard that can administer medication, ranging from simple tablets and patches (which we used), right up to injections to immediately stop nausea.
You can book your trip in complete confidence knowing that the Akademik Ioffe is at the cutting edge of expedition vessels when it comes to safety.
The Bridge
One of the most interesting parts about being on the Akademik Ioffe is the open-bridge policy, which means you can almost always head up to the bridge and watch the crew at work, any time of day or night.
If you are into boats (or even if you're not), it's very interesting to be able to check out all the navigational tools, weather monitoring systems and controls, and the Russian crew are happy to explain how it all works.
The bridge also has the added benefit of having some of the best views on the entire ship, and if you want to do some wildlife watching, this is the place to be.
The Presentation Room
Because many of the One Ocean Expeditions crew are scientists, biologists, historians, and industry-leading experts, they put on daily presentations on a variety of topics.
These could be about the story of Ernest Shackleton, the differences in penguin species, whale behaviour or a host of other fascinating insights. This is just one of the reasons why One Ocean Expeditions is a cut above the rest.
Most of the presentations happen down in the presentation room, which is set up with a projector and audio systems to allow these experts to give their talks.
During long sailings the presentations happen all day, while when you're in Antarctica or the Arctic they happen in the evenings, perfectly timed before happy hour.
Lively Atmosphere
Life onboard the Akademik Ioffe isn't stale and boring – it's a pure joy and full of energy!
The crew do absolutely everything to ensure everyone is having a great time, and are committed to making your once-in-a-lifetime polar experience as memorable as possible.
When we returned from our very first excursion the bartender was out on deck serving up rum and hot apple cider, and the music was bumping. The passengers were so amped they immediately started dancing, and most of the crew joined in.
On a sunny day we got back to the Akademik Ioffe and were relaxing before lunch when Craig, the hotel manager, announced that it was too nice a day to be sitting inside, and the chefs had decided to throw a barbecue on the stern.
Sure enough we went out there to find tables set up, champagne flowing and the cooks whipping up a feast.
Each night in the bar there's a themed get together. It could be a talent show, storytelling, games or just a dance party.
The atmosphere on the Akademik Ioffe wasn't like being on a party boat, but it is just pure fun the entire time. We couldn't wipe the smiles off of our faces at any time of day or night.
Small Passenger Numbers
The Akademik Ioffe is licensed to be able to carry 96 people, and is smaller than a lot of the other ships that visit Antarctica. So what are the benefits?
A little known fact is that only 100 people from any one ship can physically be on land excursions at any one time. Because the Akademik Ioffe has less than that, every single person can be out and about at all times. There's no waiting for one group to get back, so you can have your go.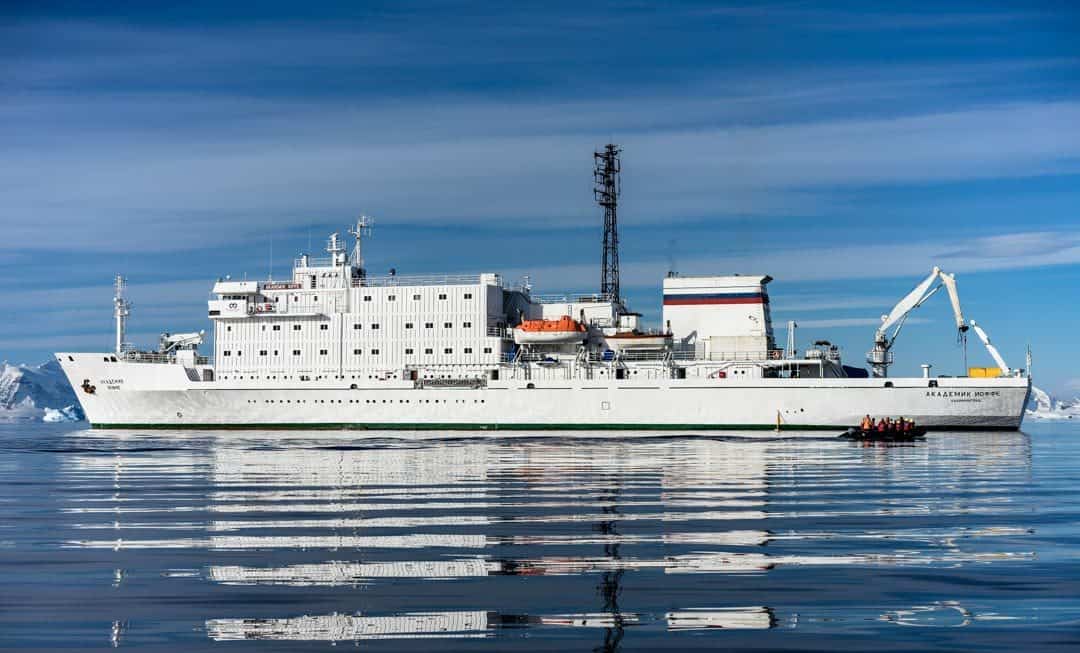 Having such low numbers also gives it more of a family environment. You get to know everybody over the course of the trip, and can really interact with the staff and crew. You're not just another number. In fact some of the best conversations and moments we had were with the One Oceans Expedition crew.
The ship being slightly smaller means it can get into coves and channels that other, larger ones can't, and can get closer to the islands and peninsula for excursions. This results in reaching unique destinations, and less time travelling in zodiacs.
Even if the ship is full there is a maximum crew to passenger ratio of 1:4. This is unheard of in the expedition industry!
Final Thoughts
The Akademik Ioffe is not a luxury cruise liner, but it doesn't try to be. Instead what you get when you sign up on a One Ocean Expeditions adventure is authentic, comfortable and exciting ship life in some of the most beautiful places in the world.
Everything you would need on a trip like this is catered for. The cabins are basic, but sufficient, the facilities are superb, but most importantly the safety features are the absolute best in the industry.
Remember, you are joining an active research vessel on a journey to the extreme ends of the earth. This is as offbeat and adventurous as you can get. You want to do it the right way, and going with One Ocean Expeditions is quality at its best.
If you want a pool, waiters serving your every beck and call and an elevator to get you from floor to floor, then you might need to look elsewhere.
But if you want a real adventure, the experience to travel on a research vessel and be in perfect comfort, then a trip to the polar regions onboard the Akademik Ioffe is for you.
[box] Our trip to Antarctica was made possible thanks to our partnership with One Ocean Expeditions. All thoughts, opinions, and hours spent hanging out with friends in the lounge are, as always, our own.[/box]